Promotions
August 7, 2018
We keep your personal information private and secure. When you make a payment through our site, you provide your name, contact information, payment information, and additional information related to your transaction. We use this information to process your payment and to ensure your payment is correctly credited to your account.
Submit your e-mail address to get the latest deals and promos.
From the tip of Walter Champion IVs pencil a hippo roars to vibrant life.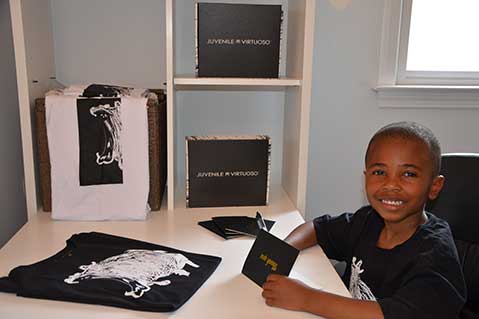 Walter Champion IV takes time to hand-sign cards that are sent out with each T-shirt order.
The quick strokes and strategic scribbles combine to form a drawing thats deft and detailed an image that exudes the energy of the alpha animal it represents. The artwork becomes that much more impressive when you realize Walter was four when he drew it. Even more impressive still when you learn the hippo penciling was the inspiration for a T-Shirt brand that has Walter, now 6, installed as creative director.
Juvenile Virtuoso, as the nascent line is called, features Walters hippo drawing on several styles of T-shirts. Its just the beginning of a tee collection Walters parents say is aimed at revealing the hidden talents of child artists and supporting a worthy cause. The brand is also a testament to the power of imprinted T-shirts to convey powerful messages with layers of meanings.
T-shirts are experiencing a renaissance, says Walters mom Adepeju Champion, who started Juvenile Virtuoso in March with her husband, company president Walter III. People are using them to display thoughts and feelings and affiliations with different ideas. We wanted to highlight the really beautiful things kids are capable of.
To that end, Juvenile Virtuoso expects to hold three or four new T-shirt releases annually. Child artists will create the graphics. Walter IV will play a lead role in selecting which designs make it onto T-shirts, and occasionally contribute additional designs of his own. A portion of sales will benefit Arts For Healing, a nonprofit organization that provides art therapies for individuals with disabilities. Children affiliated with Arts For Healing will be among the contributing artists. The next release is scheduled for August.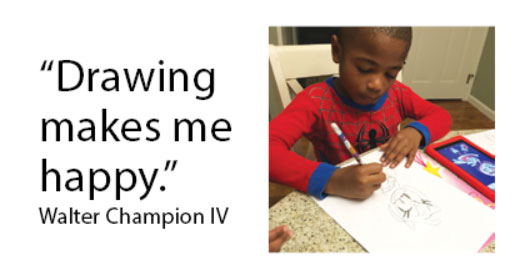 We want to use T-shirts to do something bigger than just make money, says Walter III, who, like his wife, is a physician. The whole concept is to encourage kids to pursue art, to show why thats important and what they can do with their abilities. Also, we have a child (Walters brother William) on the autism spectrum, and were passionate about supporting a charity like Arts For Healing.
For Walter IV, its a thrill to see his art on T-shirts, and to view pictures of people wearing his tees on Instagram and Facebook. Hes just amazed that people like what he does, says Walter III. So much so, in fact, that Walter IV takes time to hand-sign cards that are sent out with each T-shirt order in a high-end gift box that also includes Juvenile Virtuoso merch, such as a branded pencil.
Drawing is something hes used since preschool to calm down his nervous energy, says Adepeju. All the positive reaction hes received has been a real confidence-builder. Walter IV draws every day at a table in the family home. Animals are his favorite subjects. Drawing makes me happy, he says.
For now, Juvenile Virtuoso is in the startup stages. Nonetheless, the venture has garnered growing media attention, and Walter III said its possible that partnerships with retailers and larger-scale production could be pursued. Whether or not that happens, though, the Champions will be happy if Juvenile Virtuoso does some good and inspires children including their son to use the potential they possess.
My favorite part is seeing what our son is going to do next, says Walter III. I just want to be part of his vision.
The young artist creates designs like these every day.
*Shakira and Live Nation, the company that reportedly designed the controversial necklace, stopped selling the $9.95 piece in the wake of criticism.
*Live Nations said the symbol was based on pre-Colombian imagery and carried no racist intent.
Branded merchandise from pop star Shakira was at the center of controversy because of its use of a symbol that some criticized for bearing a striking resemblance to imagery used by Nazi Germany.
Neither Shakira nor the designs creators intended a connection to the Third Reich or modern day Neo-Nazis. Still, a necklace the singer was offering as part of the merch collection in support of her current Road to El Dorado Tour featured a design similar to a black sun, or sonnenrad. Ancient cultures had used the sunwheel image, but the Nazis appropriated it, inserting a swastika into the inner circle. As German publication Bento pointed out, the mosaic symbol appeared at the Wewelsburg Castle in Germany that later became a home base for Nazi leader Heinrich Himmler and his infamous Schutzstaffel. Twitter users latched onto the connection, and there was public outcry.
So Shakira most likely accidentally put a nazi symbol on her tour merch and didnt know it /HRjP41owbO
, you know that your necklace depicts an important Nazi symbol, propagated by the SS during the Nazi era? It was so popular that Himmler incorporated it into a floor of the Wewelsburg Castle to establish it as the center of the New World .
Some thought the criticism was overblown.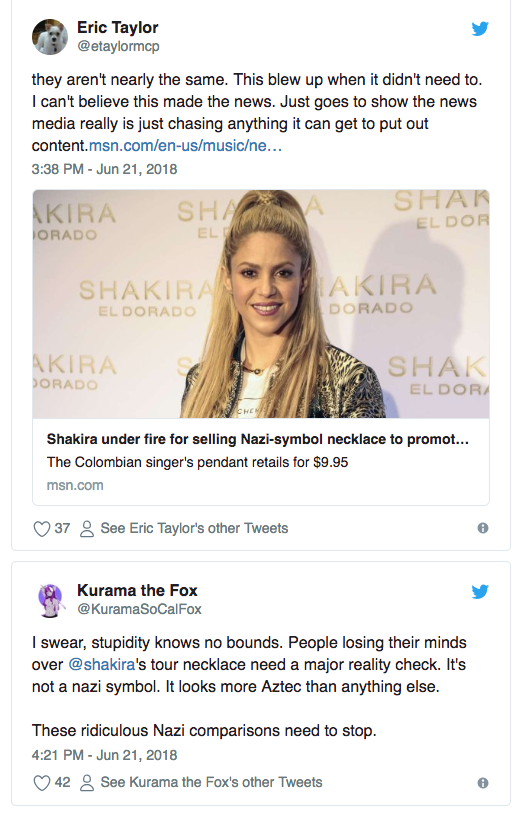 Live Nation, the events company that reportedly designed the necklace, apologized in tweets.
The necklace Live Nation designed for Shakiras El Dorado World Tour was based on Pre-Columbian imagery. However 1/
some fans have expressed concern that the design bears an unintentional resemblance to Neo-Nazi imagery. We sincerely apologize for this inadvertent similarity and have permanently pulled the item from the tour collection. 2/
The necklace had been selling for $9.95, but is no longer available. For promotional products pros, perhaps the lesson here is: Make sure you and your clients fully understand the layers of meaning attached to the graphics, symbols, and logos you put out into the marketplace.
New Service Lets YouTubers Sell Swag From Video Pages
• The new merch service displays branded products in a shelf below videos fans click on items to purchase.
• Teespring and YouTube get a cut of the sales.
YouTube just took a big step into the promotional products industry and boosted a competitor to traditional distributors in so doing.
The San Bruno, CA-based company announced last week that creators with more than 10,000 fans can sell branded merchandise directly through their channel on the popular video sharing website. Teespring, a web-based custom merchandise platform, will provide the fulfillment. Creators will be able to offer more than 20 merch items with their custom branding, including T-shirts, phone cases and hats.
As part of the service, branded items will appear in a shelf below participating creators videos. To buy, a fan simply clicks on a product image in the shelf and is re-directed to Teespring, where they purchase the item. A number of media outlets reported that some YouTube creators already had success with the new swag service during beta testing. The creator ofLucas the Spider, for example, made more than $1 million in profit in about three weeks after selling a plush version of Lucas through the YouTube/Teespring service.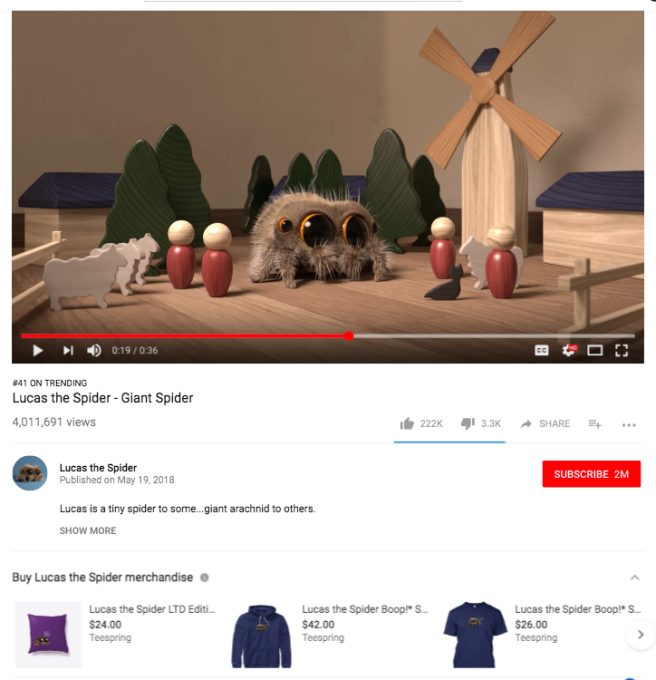 According to Teespring, YouTubers that sold through the merch shelf during beta testing experienced an 82% success rate. In fact, Teespring said conversions from views to sales tested at 2-½ times higher than with the typical YouTuber process for pitching merch on the platform, which essentially involves providing links to online destinations where creators swag can be bought. Bottom line: It all translated into 25% more units sold per participating user in the limited beta group, data showed.
Given such numbers, its not a surprise that other YouTubers were keen to get in on the action after YouTube moved to full rollout late last week.
To those of you watching my videos: do me a huge favor. Tonight, make sure to check and see if under my newest upload there is a list of merchandise for my channel available. Im rolling out the first merchandise for my channel straight through YouTube/Teespring. screenshot pls
Still, there was some backlash against YouTubes decision to partner with Teespring, which has been at the center of controversy for failing to detect that independent creators were selling everything fromswastika/Nazi geartopro Dylann RoofT-shirts on its platform.
Announcing a new way to sell merch on YouTube
Weve joined forces tors can customize and sell over 20 merch items right from their channels.
Meanwhile, some critics noted that certain YouTubers already have merch partnerships with other companies and might not desire to use Teespring. YouTube is not requiring creators to use the on-page merch shelf offering, meaning video makers can still plug links to swag-buying destinations as has been done. Admittedly, that might put such creators at a disadvantage. Even so, YouTube is reportedly looking to add more online custom product providers from which creators can sell merch directly through its platform.
For those interested in the financial mechanics, it appears Teespring will retain a flat price per item sold. YouTubers will be able to set the pricing on products so there is potential for mark-up on popular products, which could possibly lead to substantial profit. Teesprings cut can vary per item and on quantity sold. YouTube receives a commission on the sales, but did not reveal the specifics of its compensation.
For Teespring, the partnership with YouTube is a huge win. Laying employees off amid difficult times a few years ago, the web-based merch seller now stands ready to benefit from a potentially massive new revenue channel. Could the exposure Teespring will gain threaten at least some sales for traditional distributors? Could the YouTube/Teespring partnership weaken distributors ability to compete for the business of YouTubers selling merch? Well be interested to see how things play out.
This lunch cooler is lined with PEVA lining in the main compartment. A side mesh pocket keeps your drinks secure. An internal ID tag helps distinguish your lunch from the rest.
Search anything you can think of in our search bar. Looking for custom logo promotional products? Youve come to the right site! Whether you are looking for a specific item or just browsing for ideas, our site is your one-stop source. Cant find what youre looking for? Just give us a call at for immediate assistance.
About The Author
Dome Tags